East County Youth Coalition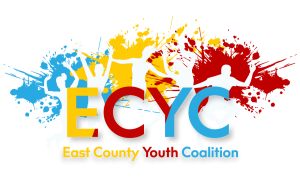 The East County Youth Coalition (ECYC) was founded in 2003 by the Institute for Public Strategies when high school students in San Diego's East County wanted to make a change in their community. ECYC works closely with students in the Grossmont Union High School District including Monte Vista and Mount Miguel high schools to assist students with making a lasting impact on their community.
During the pandemic, we added a virtual ECYC option to include additional students from other East County campuses such as El Cajon Valley High and Valhalla High. Each week, we host meetings and conduct activities about various public health-related topics such as mental health, alcohol and other drugs, physical activity, land use and the environment.
Students also participate in volunteer opportunities or help host events like community clean-ups, Prescription Drug Take Back Day, Red Ribbon Week, and more to raise awareness about health subjects impacting their community. Students who participate in our program receive community service hours, media exposure for their community work and make lasting change in the East County region. Participating in this program helps build a sense of responsibility for the community and has boosted college applications for our students interested in pursuing a university education. If you are interested in learning more about ECYC or the various topics we cover in our program, visit our ECYC Instagram Page at @eastcountyyc.